Envelopes IMAGESAFE - DIN A8
Order Quantity
Price
from 1

€14.10

from

5

€13.03

from

10

€11.66
Available, delivery time: 5 - 7 days
Product information "Envelopes IMAGESAFE - DIN A8"
These transparent envelopes are made of archival safe grained polypropylene to ensure safe storage of prints, postcards or negatives. They protect photographic collections from dust, dirt and fingerprints during handling, presentation and storage. The high-quality grained polypropylene contains no harmful chemicals, softeners and acid to cause deterioration during long-term storage. Open at short side, sealed
ext. format: 6,6 x 9,7 cm,
int. format: 5,8 x 9,4 cm
thickness: 120 μm (0,12 mm)
grained polypropylene,
with griphole
price per package of 100 pcs.
Opening:

1 short side open

Transparency:

fully transparent

Material:

Polypropylene (plastic)

Features:

acid-free, plasticizer-free

, Photographic Activity Test (PAT)

Object format:

for DIN A8 formats

Indicated price:

Price per sales unit
Storage boxes "Presto" - file cards DIN A7 Premium
37.5 x 12 x 8.6 cm (L x B x H)
These archive boxes with separate lid are designed for the storage of index cards, postcards, photos, Cartes de Visite in DIN A7 format. The construction ensures high stability. The two fixed centre bars prevent the archive material from slipping in the storage box. The delivery is flat and contains a multi-part box for self insertion. The blue-grey archive board in Premium quality is acid-free, basic buffered and resistant to ageing.Ext. format: 39,0 x 14,0 x 9,6 cmInt. format: 37,5 x 12,0 x 8,6 cm
Art.-Nr.: P41011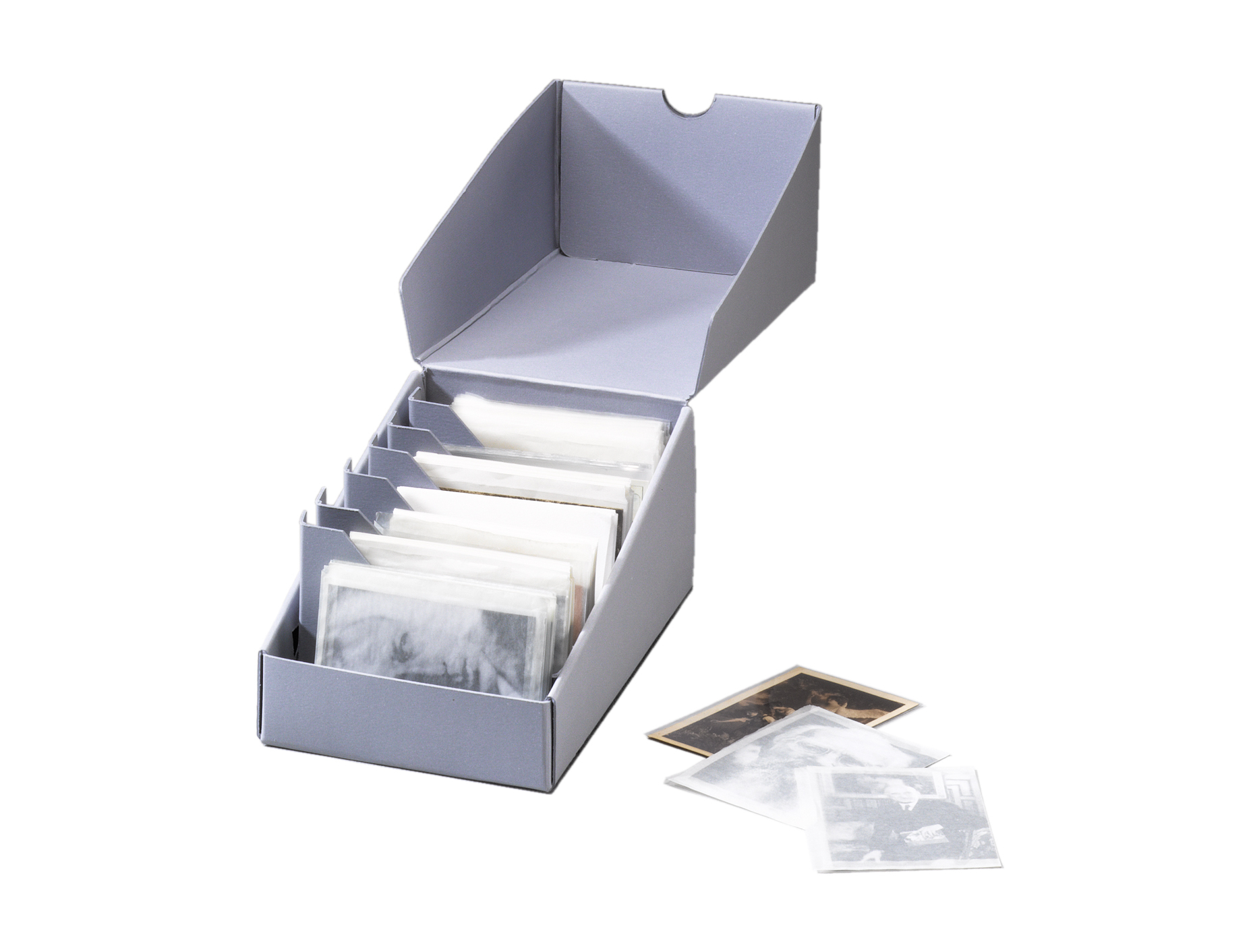 Archival box PRISMA - 10x15 - DIN A6
28.5 x 16.5 x 11.8 cm (L x B x H)
This classic archiving system is particularly suitable for the storage of photographs and glass plates up to a maximum of DIN A6 transverse, but also documents of all kinds, postal stationery, postcards and stamp pads are stored in an archival safe way. A further plus is the high stability and functionality of the box. The dividers are an integral part of every PRISMA archive box and allow solidly supported, upright storage of archive materials.The archive box PRISMA I is suitable for all common photo or postcard formats, such as 9x12, 9x13, 10x15 cm. For example, up to 400 photo prints in pockets or a maximum of 85 glass plate negatives in 4-flap-enclosures can be accommodated - depending on the glass thickness. ext. format: 30,0 x 19,0 x 12,5 cmint. format: 28,5 x 16,5 x 11,8 cmPrice per box
Art.-Nr.: 09903