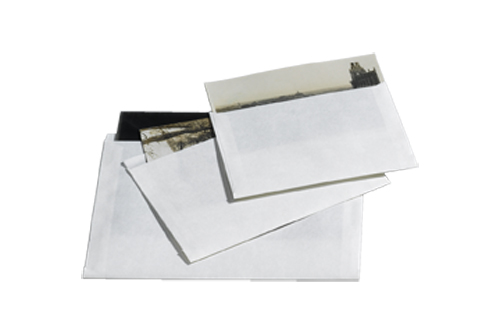 Order Quantity
Price
from 1

€14.71

from

10

€12.30
Available, delivery time: 5 - 7 days
Product information "Envelopes FACIL - DIN A5"
FACIL envelopes are made of high-quality, pure CHRONOS photo paper that is the most safe storage and conservation option for photographic collections. In order to match the specific requirements for archiving of photographic material this natural white paper with no alkaline reserve (no calcium carbonate buffer) has been developed, the pH value is approx. 7,0. Furthermore it contains no optical brighteners.
The average KAPPA index is < 2 (KAPPA index 5 = max. tolerance of oxidising components, see also DIN ISO 9706). 3 sides closed, only pH neutral adhesive used on 2 sides. May be stored in archival photo boxes like photo box "Prisma", "Spectrum" or "Illumina" - a safe and efficient combination.
Please note: The back side of the pockets protrudes at the opening by about 5 - 8 mm beyond the end edge of the front side.
ext. format: 15,5 x 21,9 cm,
int. format: 15,2 x 21,2 cm
price per package of 100 pcs.
Opening:

1 long side open

Transparency:

untransparent

Material:

Archival photo paper (unbuffered)

Strength:

100 g/m2 archival photo paper

Features:

acid-free, unbuffered

, Photographic Activity Test (PAT)

Object format:

for DIN A5 formats

Indicated price:

Price per sales unit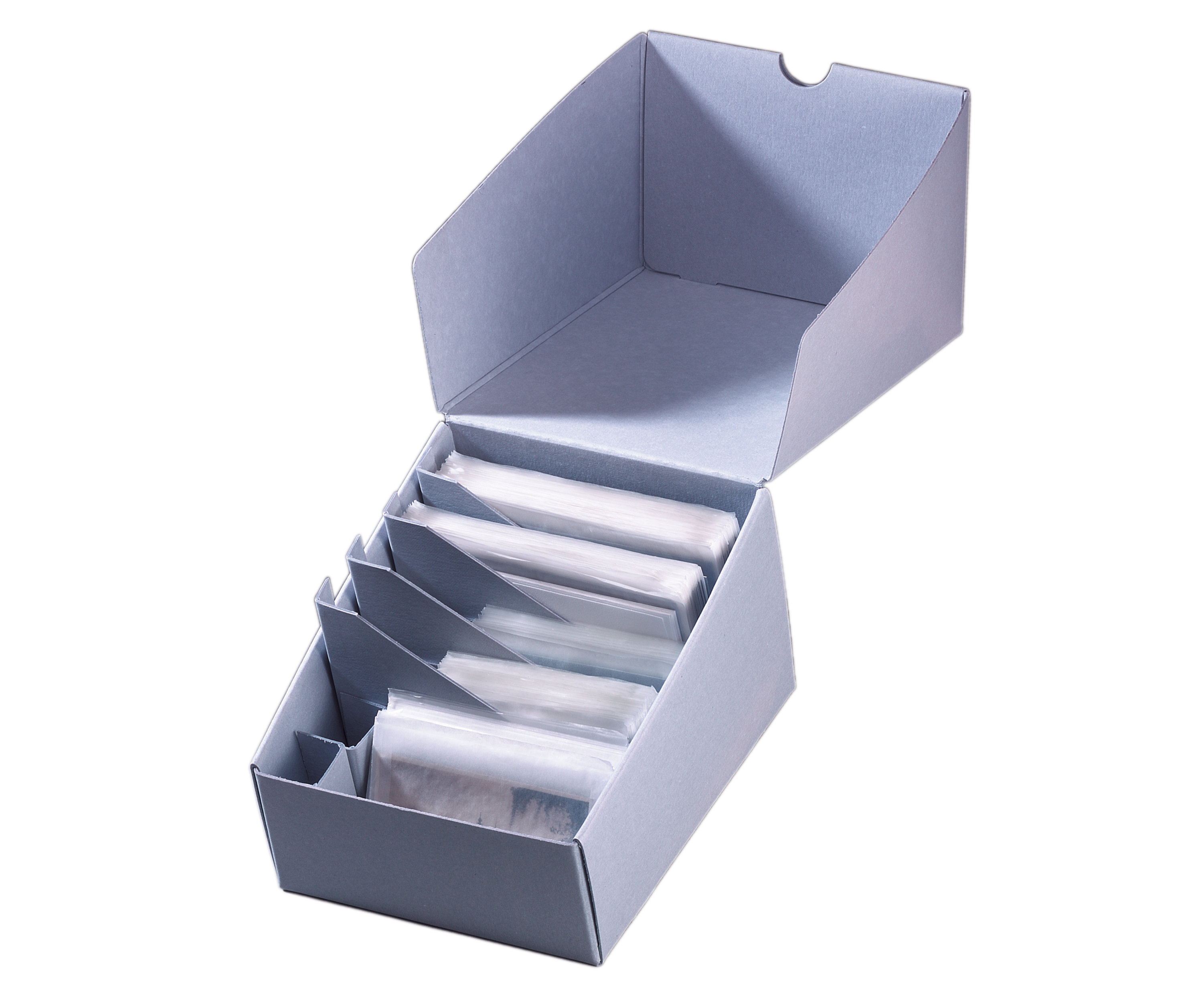 Archival box PRISMA - 13x18 - DIN A5
25.5 x 22 x 16.5 cm (L x B x H)
This classic archiving system is particularly suitable for the storage of photographs and glass plates up to a maximum of DIN A5 transverse, but also documents of all kinds, postal stationery, postcards and stamp pads are stored in an archival safe way. A further plus is the high stability and functionality of the box. The dividers are an integral part of every PRISMA archive box and allow solidly supported, upright storage of archive materials.  Another plus of this box: The supplied side supports can be adjusted exactly to the desired format and thus prevent the contents from slipping.The archive box PRISMA III is particularly suitable for storing holdings with very different formats, such as 9x12, 9x13, 10x15, 13x18 cm up to max. DIN A5 (landscape format). Up to 300 photo prints in pockets or a maximum of 75 glass plate negatives in 4-flap-enclosures can be inserted, depending on the glass thickness.The boxes are made of one piece and are assembled without the use of glue or staples.Format ext.: 27.0 x 24.5 x 17,3 cmFormat int.: 25,5 x 22,0 x 16,5 cmincl. 5 compartmentsand side supportsunit price
Art.-Nr.: 09906
Storage box "Scala" - DIN A5 Premium
22.5 x 15.5 x 10 cm (L x B x H)
These boxes are particularly suitable for space-saving vertical archiving. The generous opening on the top allows easy access to the contents. With the help of matching labels, the front of the box can be easily and cleanly labelled. ext. format: 23,5 x 16,5 x 11,0 cmint. format: 22,5 x 15,5 x 10,0 cm
Art.-Nr.: P73045
Storage boxes "Presto" - cards DIN A5 Premium
37.5 x 22.5 x 16.5 cm (L x B x H)
This archive box with separate lid is designed for the storage of index cards, postcards, photos, Cartes de Visite in DIN A5 format. The construction ensures high stability. The two fixed centre bars prevent the archive material from slipping in the storage box. The delivery is flat and contains a multi-part box for self insertion. The blue-grey archive board in Premium quality is acid-free, basic buffered and resistant to ageing. Ext. format: 39,0 x 24,5 x 17,5 cmInt. format: 37,5 x 22,5 x 16,5 cm
Art.-Nr.: P41017