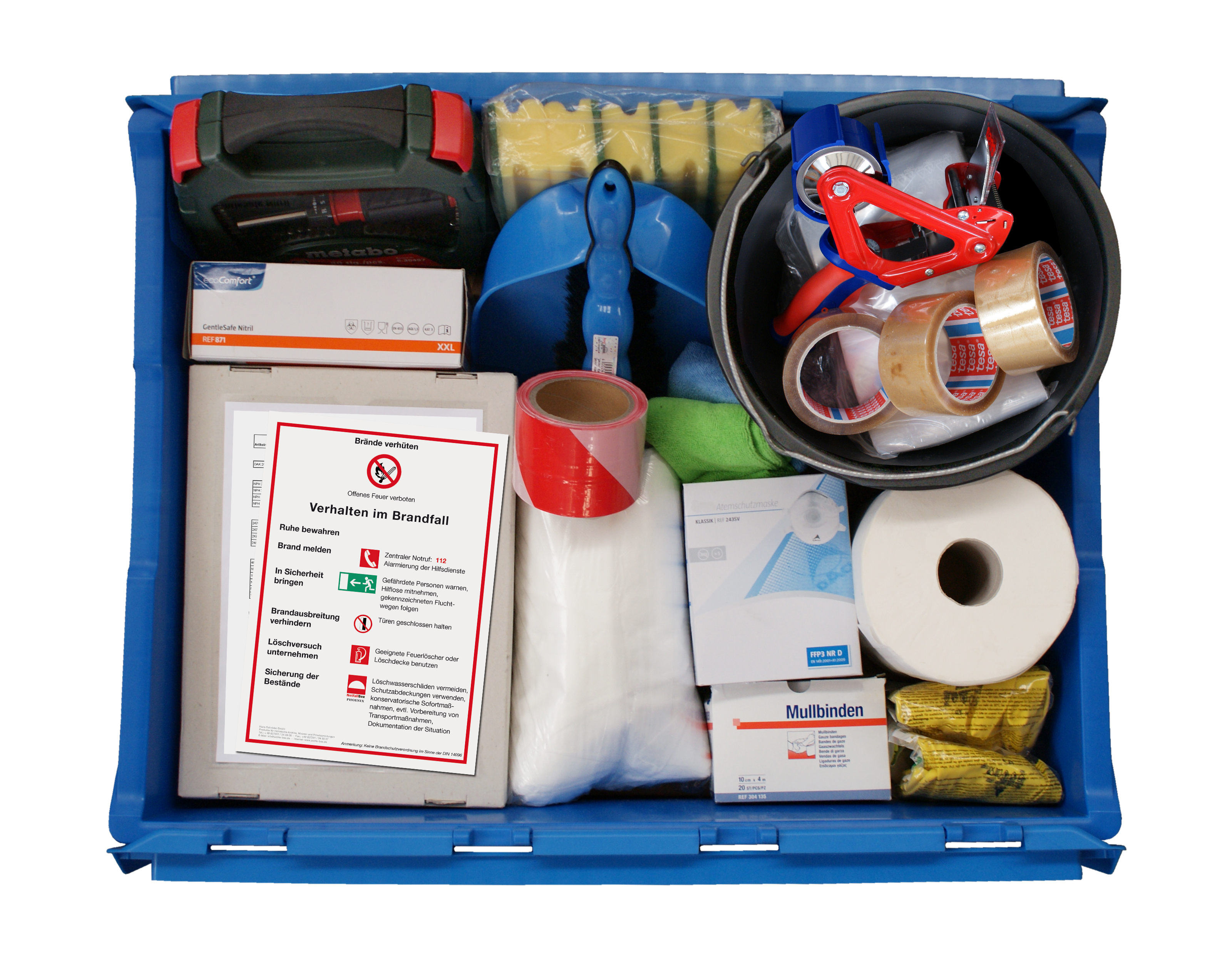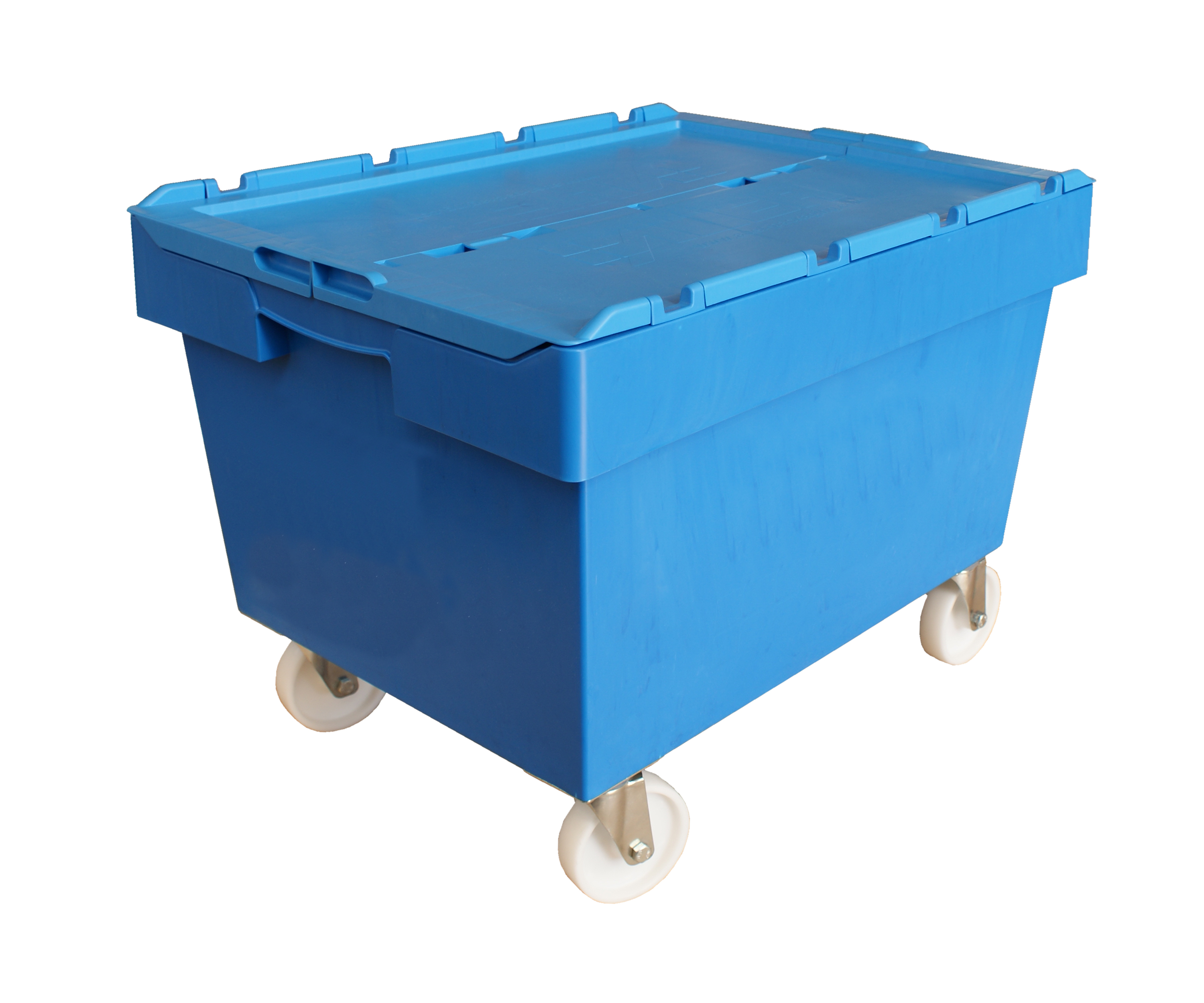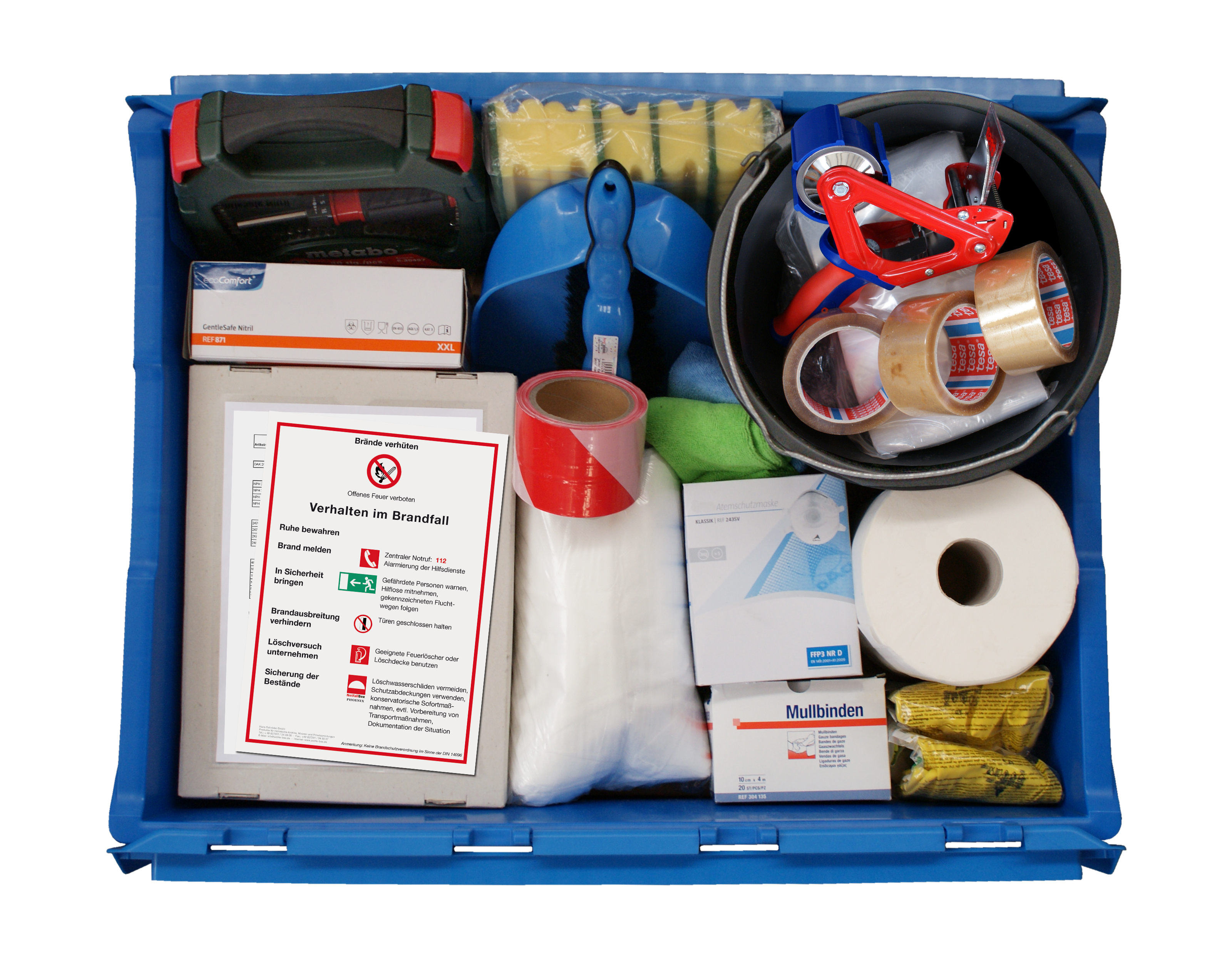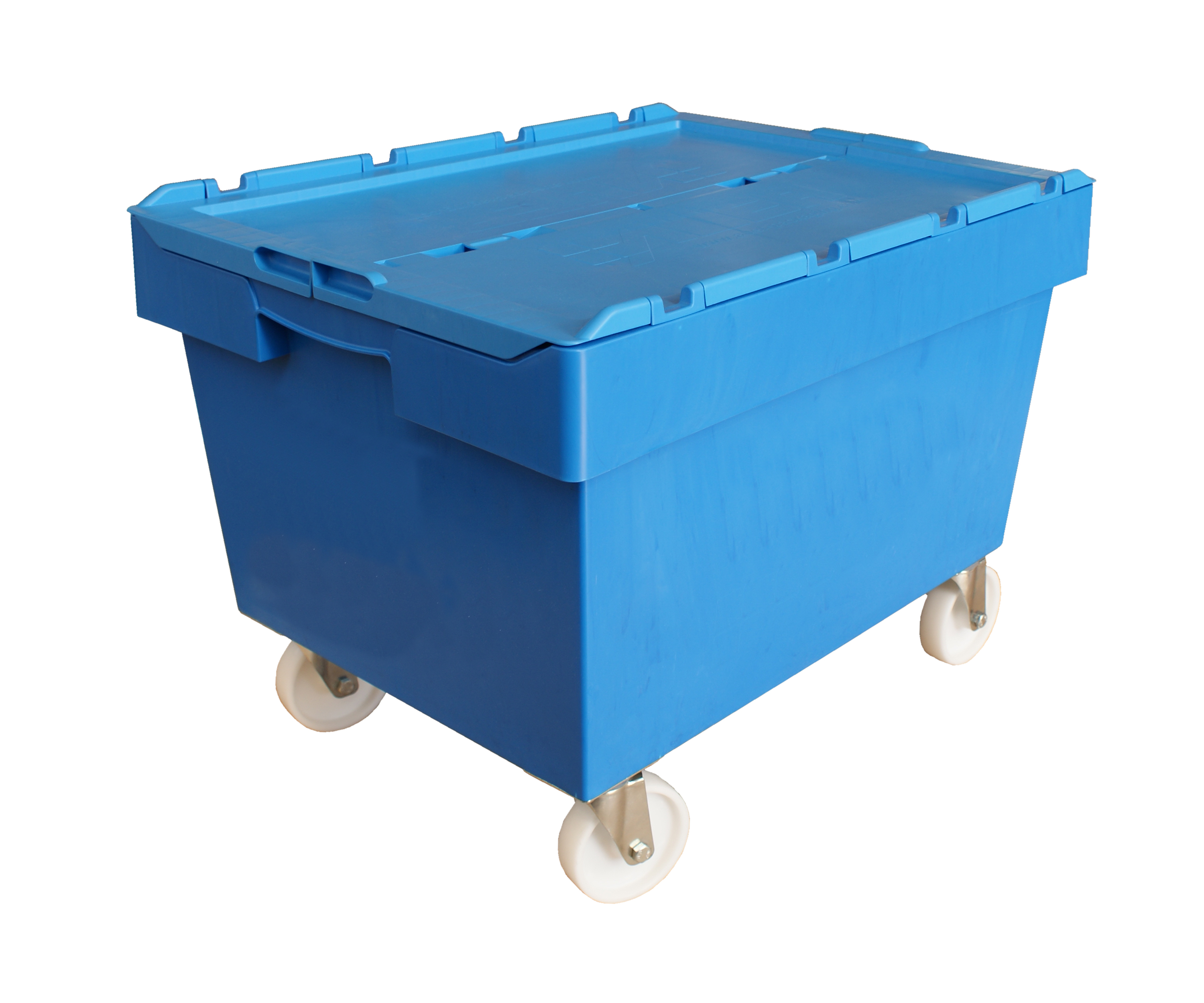 Available, delivery time: 5 - 7 days
Product information "Emergency box PHOENIX 1"
One of the most serious emergencies in which cultural assets are affected is water ingress caused, for example, by flooding, frost blasting of water pipes, wind breakage at windows or clogged downpipes. However, fire and building damage also represent existential threat scenarios that cannot be completely ruled out despite care and precaution.

The PHOENIX emergency boxes were developed with these scenarios in mind. They contain selected materials that are quickly at hand in an emergency and provide valuable "first aid". In particular, they help to immediately contain the spread of damage and to professionally secure, evacuate and document damaged or endangered cultural assets.

The selection of materials is based on current recommendations of the administrative authorities and is specifically geared to the needs of archives, libraries, museums and private collections. Each PHOENIX emergency box can be sealed to prevent misuse of its contents. Each component can be reordered individually as it is consumed or removed.

Each PHOENIX emergency box comes with a list of contents, hazard labels, telephone lists and localisation labels. These can be affixed in the building, with precise information as to where the next PHOENIX emergency box can be found in the event of damage.

We offer the PHOENIX emergency box in two versions. Both are equipped with the same contents as standard and differ only in the type of outer packaging (plastic or aluminium box). Optional accessories can be ordered separately.

The following materials are included in the PHOENIX 1 emergency box:

Information on emergency and safety measures
- Hazard signs and telephone list in case of fire / leakage (3 pieces)
- Localization labels (3 pieces)
- Security labels for sealing the emergency boxes (1 sheet of 27)

Protective apparel
- Disposable aprons, water-repellent, (1 Pack of 20)
- Shoe cover, waterproof, plain size (10 pairs)
- Protective overall - CAT III, Typ 5+6 - Size L, XL (1 piece each)
- Breathing masks FFP3 (5 pieces)
- Latex gloves, size 10, multi-portable, cotton velour (2 pairs)
- disposable gloves, nitrile, size XL, (1 pack = 180 gloves)
- Dynamic" safety goggles, transparent, (2 pieces)

First aid for personal injury
-First aid paraphernalia such as bandages, plasters, etc. (1 set)

Auxiliary means for securing and containing the danger zone
- tarpaulin 4 x 5 m, 180 g/qm (1 piece)
- Barrier tape, Tesa, 100 m x 80 mm (1 roll)
- Door wedges, 75 x 35 x 22 mm, colour red (4 pieces)
- Plastic/refuse sacks, 120 l, 70 x 110 cm, transp., 60 μm (1 roll = 25 pieces)
- Cable tie, length approx. 20 cm (1 pack = 100 pieces)
- Stretch film with handles, 20 μ, 45 cm x 300 m (1 roll)
- Optional*: Table / roll-off holder for stretch films, code: NPH2470
- Adhesive tapes, Tesa film, 10 m x 15 mm (10 rolls)
- Adhesive tape dispenser from Tesa, for small rolls (1 piece)
- Adhesive tapes from Tesa, 50 mm x 66 m (3 rolls)
- Hand dispenser from Tesa for adhesive tapes (1 piece)
- Optional*: Fire blanket, 160 x 180 cm, 2 grip pockets, code: NPH2492
- Optional*: Suction barrier set with 6 polypropylene snakes, length 180 cm each,
  in Multibox (outer dimensions: 600 x 400 x 440 mm), code: NPH2487

Materials for immediate securing / cleaning of affected objects
- Pressure closure bag 15 x 22 cm, 200 bags (2 VE)
- pressure closing bag 23 x 32 cm, 200 bags (2 VE)
- Pressure closure bag 30 x 40 cm, 200 bags (2 VE)
- Gauze bandages 10 cm x 4 m (20 pieces)
- Pulp paper on roll, 2-ply, approx. 18 cm high, diameter approx. 16 cm (1 roll)
- Brushes from Chinese laboratory bristles, each 2 pieces width 30, 40, 50 mm, (1 set = 6 brushes)
- Hand brush, horsehair (2 pieces)
- Optional*: Extinguishing box, 300g/qm, 24 x 40 cm, natural white,
  100 sheets (1 pack), code: 99880-24

Materials for damage recording / marking
- Adhesive labels, format 9.7 x 4.2 cm, 12 labels per DIN A4 sheet (100 sheets)
- Notepads, lined (3 pieces)
- Permanent pen for marking all materials, black (3 pieces)
- Pencils (3 pieces)
- Pencil sharpener (1 piece)

Emergency lighting
- Hand lamp, floor lamp, LED (1 piece)
- Batteries Mignon AA (10 pieces)
- Batteries Mignon AAA (10 pieces)

Tools
- Screwdriver set (1 piece)
- Combination pliers (1 piece)
- Carpenter's Hammer (1 piece)
- Scissors (1 piece)
- Cutter knife, with spare blades (1 piece)
Materials for immediate cleaning of the emergency zone
- Sweeping set consisting of sweeper shovel and broom (1 set)
- Cleaning sponges with scouring fleece and grip groove, 9.5 x 7 x 4.5 cm (10 pieces)
- Bucket, plastic, 10 l (1 piece)
- Microfibre cloths (2 pieces)

* Optional articles are not included in the standard equipment and must be ordered separately if required.
 
Emergency Box PHOENIX 1
consisting of
Multibox on wheels, PP, blue,
outside: 800 x 600 x 600 mm,
including all materials
of the above standard equipment

Price per box with contents