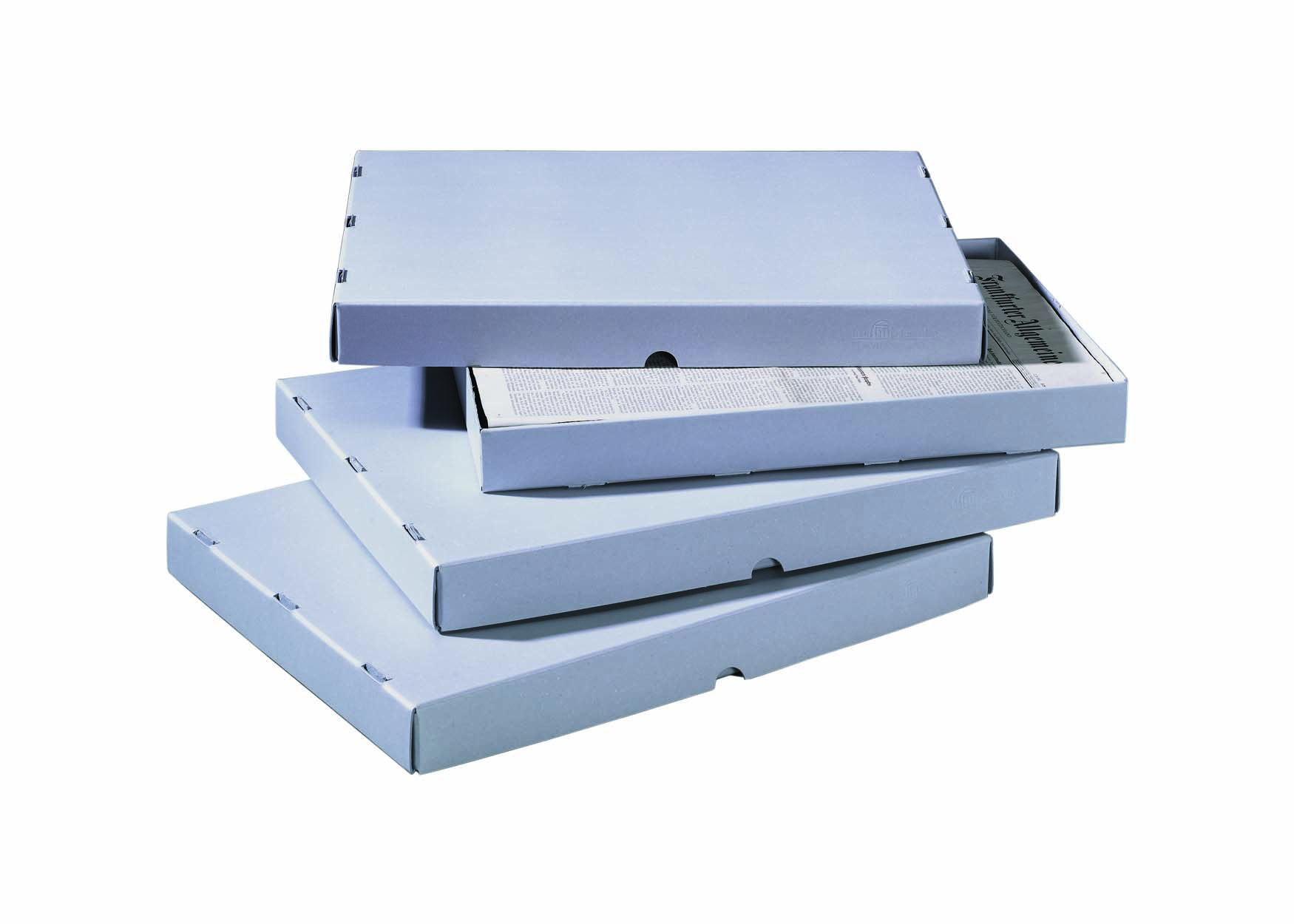 Storage Box "Loreley" - 50x70 - Premium
Order Quantity
Price
from 1

€17.65

from

25

€14.61

from

50

€12.83

from

250

€12.26
Available, delivery time: 5 - 7 days
Product information "Storage Box "Loreley" - 50x70 - Premium"
This large format box consists of a separate base and lid and is a proven classic in the archive. It is designed for horizontal, very gentle storage of newspapers, textiles and large objects.
Ext. format: 74,0 x 54,0 x 6,5 cm
Int. format: 72,5 x 52,0 x 6,0 cm
Quality:

Archival board PREMIUM

Strength:

1,40 mm Solid board

Colour:

blue-grey

Features:

permanent

, acid-free, calcium carbonate buffered

, Photographic Activity Test (PAT)

Object format:

for large XL formats

, for DIN A2 formats

, für 50 x 70 Formate

Indicated price:

unit price

Delivery:

flat delivery, manual assembly
File folder "Adagio" - 62 x 43
62 x 43 cm (L x B)
These folder with one middle score are perfect for single kept documents, newspaper cuttings, drawings, manuscripts, cards, maps, posters, pictures, etc. Due to only one score unwanted imprints are avoided. File folders are space-saving and fit easily into archival storage boxes or horizontal plan chests. size: 62,0 x 43,0 cm (folded)
Art.-Nr.: 67257
3-Flap file folder "Voltaire" - 61 x 43 + 3
61 x 43 x 3 cm (L x B x H)
3-Flap file folder "Voltaire" have three wide side flaps to effectively prevent the contents from slipping out. They are often used for archiving thematically grouped documents of all kinds, letters, cards, posters, graphics, drawings, pictures or photographs. The archive cardboard in high-quality, age-resistant Premium Plus quality (DIN ISO 9706 and successfully PAT-tested) also complies with the latest guidelines for archive packaging (ISO 16245-A) and offers maximum protection for inserted contents. Format: 61,0 x 43,0 cmMax. height: 3 cm Delivery: folded ready for use.From a minimum order of 50 pieces flat lying delivery.
Art.-Nr.: 69996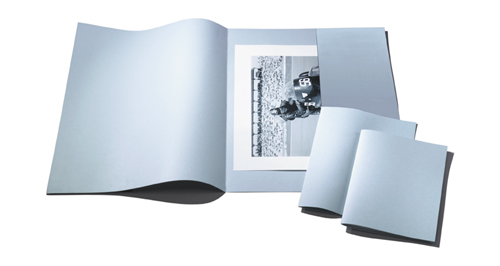 File folder "Adagio" - 62 x 43 + flap
62 x 43 x 14 cm (L x B x H)
These folder with one middle score and a flap on the right side are perfect for single kept documents, newspaper cuttings, drawings, manuscripts, cards, maps, posters, pictures, etc. Due to only one score unwanted imprints are avoided. File folders are space-saving and fit easily into archival storage boxes or horizontal plan chests. size: 62,0 x 43,0 cm (folded)flap: 14,0 cm
Art.-Nr.: 67277-KL