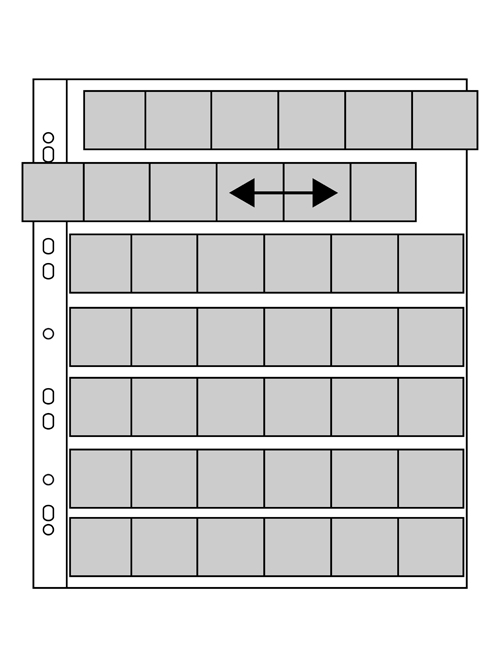 Album pages PANORAMA - for negatives
Order Quantity
Price
Base price
from 1

€12.97

€0.52* / 1 Stück
from

4

€11.25

€0.45* / 1 Stück
from

8

€10.77

€0.43* / 1 Stück
from

20

€10.12

€0.40* / 1 Stück
Available, delivery time: 5 - 7 days
Product information "Album pages PANORAMA - for negatives"
These high-quality perforated, crystal clear polypropylene pages for standard 4-ring binders allow convenient viewing and minimize exposure to dirt, pollution and finger prints. The pages are made from premium high clarity polypropylene which contains no harmful chemicals, softeners and acid to cause deterioration during long-term storage. Successfully PAT-tested.
7 pockets for 6 frame 35 mm strips
pocket size: 233 x 40 mm,
ext. size: 303 x 260 mm
115 μm, crystal clear foil,
PAT-Test,
price per pack of 25 pcs.
Transparency:

fully transparent

Material:

Polypropylene (plastic)

Features:

acid-free, plasticizer-free

, Photographic Activity Test (PAT)

Object format:

for negatives / roll film strips

Indicated price:

Price per sales unit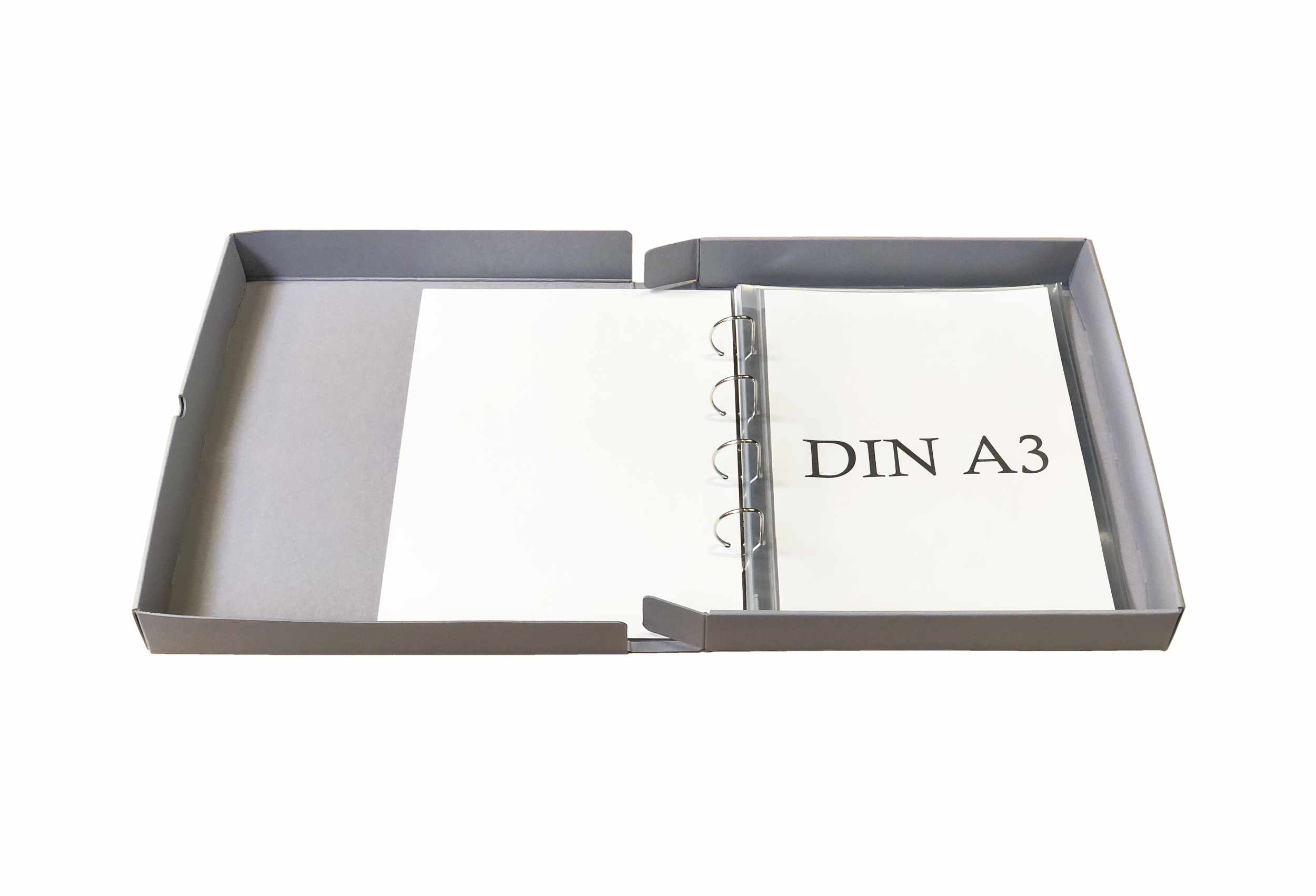 Archival box REFLEX - DIN A3
45 x 40.5 x 6.5 cm (L x B x H)
Compact archive cassette from one piece - for the safe and professional storage of documents, photographs and much more. With high-quality, stable ring mechanism.The archive cassette offers space for approx. 50-80 transparent envelopes with filing edge. The ageing resistant archive board gives the archive cassette a high stability and security. Inside, two white, unbuffered photo archive boxes provide direct protection for the stored image material.The REFLEX archive cassette is dustproof, stackable and very robust. The Photo Activity Test (PAT) was passed successfully. Delivery fully assembled. For labelling we recommend the matching 3L viewing windows. ext. format: 47,5 x 42,5 x 7,0 cm,int. format: 45,0 x 40,5 x 6,5 cm,with 4-ring-mechanism,ring to ring distance 80 mm,for album pages up to max. ext. format of 43,0 x 34,0 cm Unit price
Art.-Nr.: 09923
Archival box REFLEX - 4 ring
32.5 x 31 x 6.5 cm (L x B x H)
Compact archive cassette from one piece - for the safe and professional storage of photographs, slides, negative strips, postcards, stamps, coins and much more. With high-quality, stable ring mechanism.The archive cassette offers space for approx. 50-80 transparent envelopes with filing edge. The ageing resistant archive board gives the archive cassette a high stability and security. Inside, two white, unbuffered photo archive boxes provide direct protection for the stored image material.The REFLEX archive cassette is dustproof, stackable and very robust. The Photo Activity Test (PAT) was passed successfully. Delivery fully assembled. For labelling we recommend the matching 3L viewing windows. ext. format: 35,0 x 33,0 x 7,0 cm,int. format: 32,5 x 31,0 x 6,5 cm,with 4-ring-mechanism,ring to ring distance 80 mm,for album pages up to max. ext. format of 32,0 x 27,0 cm Unit price
Art.-Nr.: 09915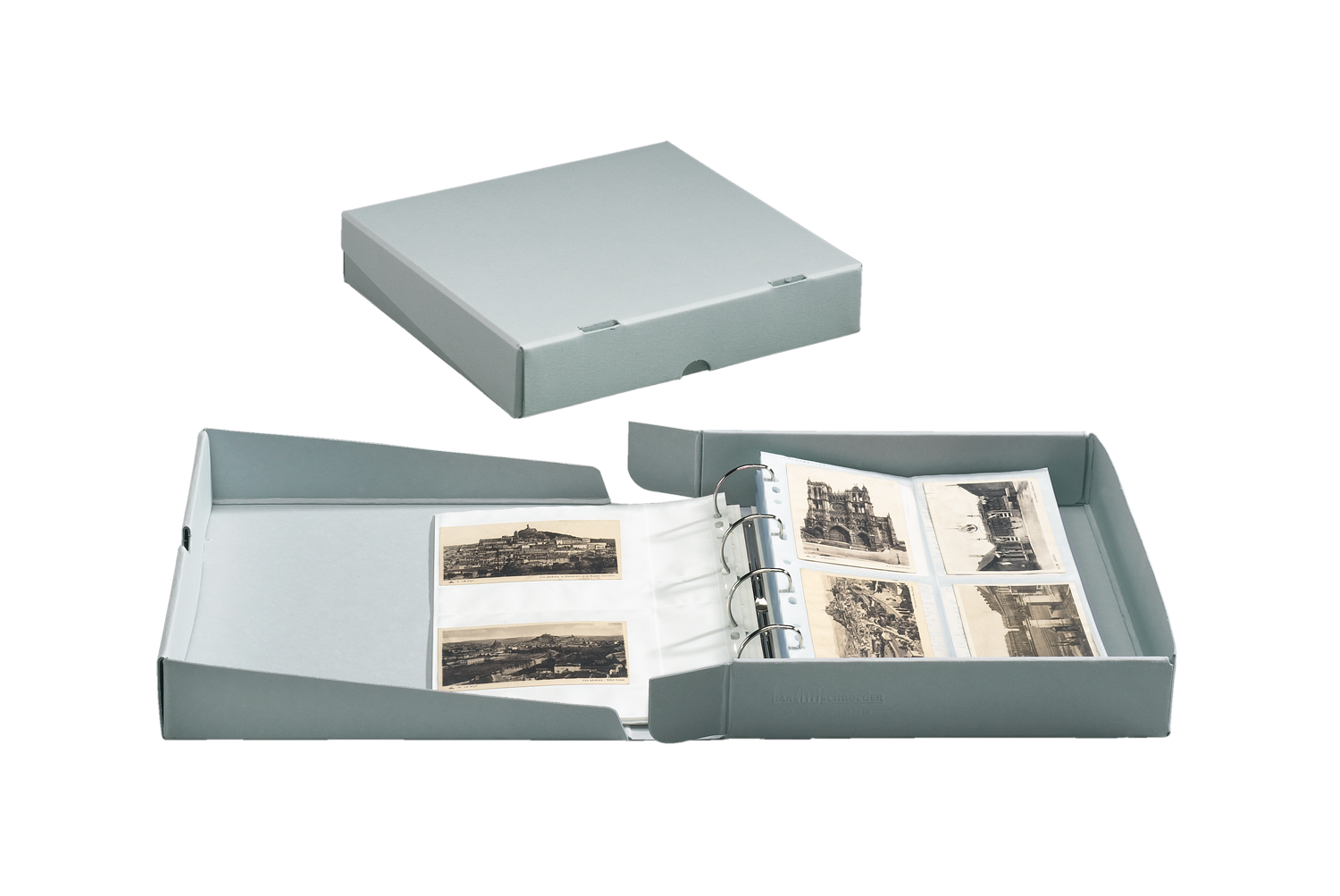 Archival box REFLEX PP - 4 ring
32.5 x 31 x 6.5 cm (L x B x H)
Compact archive cassette in Premium Plus quality (acc. DIN ISO 9706 et DIN ISO 16245-A) from one piece - for the safe and professional storage of photographs, slides, negative strips, postcards, stamps, coins and much more. With high-quality, stable ring mechanism. Album pages with matching perforation: PANORAMA, SECOL AS, VISTA, FACIL, PRINTFILEThe archive cassette offers space for approx. 50-80 transparent envelopes with filing edge. The ageing resistant archive board gives the archive cassette a high stability and security. Inside, two white, unbuffered photo archive boxes provide direct protection for the stored image material.The REFLEX archive cassette is dustproof, stackable and very robust. The Photo Activity Test (PAT) was passed successfully. Delivery fully assembled. For labelling we recommend the matching 3L viewing windows. ext. format: 35,0 x 33,0 x 7,0 cm,int. format: 32,5 x 31,0 x 6,5 cm,with 4-ring-mechanism,ring to ring distance 80 mm,for album pages up to max. ext. format of 32,0 x 27,0 cm Unit price
Art.-Nr.: PP09915